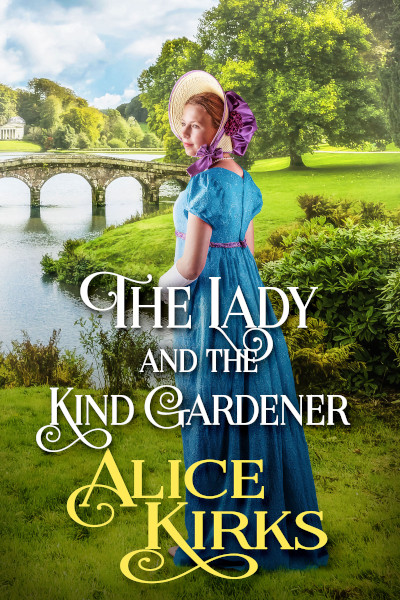 Elizabeth Bolton stood in the doorway of her new home, taking in the breathtaking view of the surrounding green. Large, mature trees dotted the landscape, and in the distance, she could see the lake shining in the afternoon light. Clivebury Manor stood to attention just on the other side. Her mother had gifted them the house on the outer edge of her father's estate. It was nothing like she had been used to growing up at the manor, but she was glowing, she was so happy. Thomas was a better husband than she could have even asked for, always thinking of her needs before his own. He made her want to be better and was learning what it meant to be a close-knit family. She did not have all the comforts she was used to before, but she had the love of a husband who adored her.
She stepped out into the sunshine, relishing the fresh scent that the recent rains had brought them. She walked around to the side of the house where Thomas was working in a small vegetable garden. Watching him for a moment, a smile tugged at her mouth. "What is such a handsome man like you doing in the dirt? Should you not be kissing someone right now?"
Thomas turned, looking up at her with a smile. "I would gladly take a break to come kiss such a beautiful woman." He brushed the dirt off his knees and hands, coming to the low wall separating the green from the new garden. He leaned in and kissed her, then took her hand to lead her around the wall and through the newly finished gate. "What do you think?"
Thomas had been working hard over the last few days to lay out neat rows of vegetables. As of now, there were only mounds of rich, dark earth, but soon the ground would burst forth with tender shoots.
"I think you've done a wonderful job, Thomas. I cannot wait to watch it grow."
"It may not look like much now, but soon the ground will be alive with new growth."
Elizabeth interlaced her fingers through his. "You will have something else to watch grow here soon."
He screwed up his nose at her, giving her a confused look. "Whatever are you talking about?"
She placed her hand over her abdomen and grinned. "Congratulations, Thomas. You're going to be a father," she said softly, hoping that he would be pleased with the news. His reaction did not disappoint. He let out a loud cheer and wrapped his arms around her middle, swinging her around in. circle. Their laughter mingled together as it echoed over the green.
"Oh, Elizabeth. Are you sure? This is the most wonderful news!"
"I am sure. You may expect to be a new papa by Christmas, I would imagine." Elizabeth could hardly contain her pleasure and excitement. Tears sprang to her eyes, and she touched his cheek tenderly. "I love you ever so much. Sometimes, I think I might die of happiness."
"You are not allowed to die, Elizabeth. I won't hear of it, do you understand?" he said in mock seriousness.
"We all have to die sometime, love."
"Yes, and when you go, I shall be with you." He rested his forehead against hers, and for a moment, they were content to simply listen to each other's breaths, steady and comforting. After a time, Thomas took her hands and started toward the path that led out of the little garden.
"Well, I think I've done enough work for today. Why do we not head over the green to Clivebury and tell everyone else the good news?"
Elizabeth nodded her consent, and soon they were walking hand in hand across the green. Her mother had set up tea outside, very near the lake. It had become somewhat of a tradition to have tea at Clivebury most afternoons, especially since the weather was so lovely. Elizabeth could see her mother-in-law coming down the hill with George, Eloise, and Frederick in tow. Her sister and brother's-in-law had become so dear to her over the last year, and she thanked God that Eloise had had no more brushes with death. She seemed to be growing stronger every day.
When they were all seated for tea, Elizabeth cleared her throat and waited for them all to quiet. "I have an announcement to make," she said. She paused for a moment, just to watch their expressions. Her mother glanced at Mrs. Bolton, and Mrs. Bolton bit her lower lip, seeming to have figured it out before she said a word. "I am going to have a baby!" she said, and the table erupted with cheers, especially from Eloise. Penelope and Cordelia stood up and came to either side of her, each talking excitedly over the other.
Elizabeth held up her hands for quiet once more, and she reached for Thomas' hand, beaming from ear to ear. "It seemed fitting to tell you all here, right next to the spot where Thomas and I first met. I do not think I have ever been so happy that I nearly drowned." Laughter rose from the table, and Thomas squeezed her hand. Elizabeth met his gaze, turning serious for a moment. "I owe so much to you, my love. You taught me what it means to live selflessly, to put family above earthly riches, and to love unconditionally. I could live a hundred lifetimes and never deserve this life that I am privileged to share with you."
Thomas stood up and wrapped his arms around her. "It is I who is the lucky one," he whispered, leaning in for a kiss. The mothers clapped, and the rest of the family cheered. Never had Elizabeth imagined her life would turn out this way. No, it had turned out even better.
THE END
---
Readers who read this book also liked